Easy, Affordable, and
Profitable!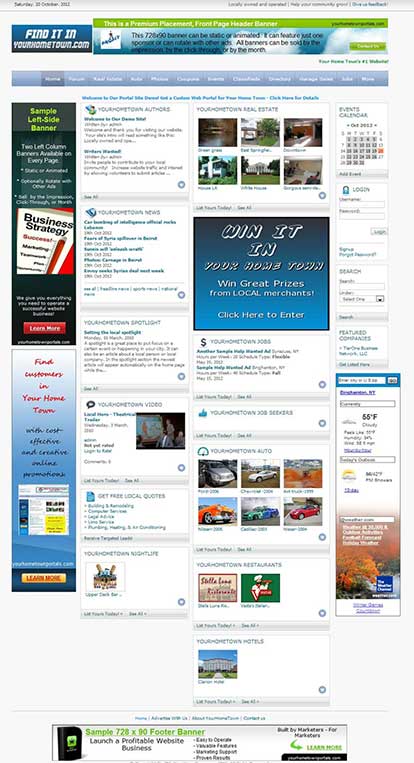 Own and Operate a Website Portal in Your Hometown!
Generate Consistent Monthly Income
Work Your Own Schedule
Great for a Part Time or Home Business
Even Better when added to an Existing Business
Easy to Operate
No Special Computer or Programming Skills Required
Affordable Monthly Pricing Plans
Here's how it works:
We would set up a site for you (similar to www.finditinyourhometown.com, but customized for your area). It could be called www.finditinYOURCITYNAME.com or any other available name of your choice. You would own and operate the business and you would collect 100% of all incoming listing, banner, and other sponsorship revenues. We only charge you an affordable flat-rate monthly licensing fee.
The site is very easy to operate. No special computer or programming skills are required, and many of our clients even operate this as a part time business out of their homes.
Most importantly, when you get a site from us, we essentially become your back-office marketing and support team. We provide you with a great deal of assistance - not only helping you to drive traffic to your site, but also finding paid sponsors.
For additional information, please contact us today!
Call Toll Free:
1-877-521-5578